State of Shock
is the fourteenth episode of
MyMusic
. It follows
ROTFL:BRBTTYL:)
trying to find a new dance style, while
Hip Hop
feels threaten that
Intern 2
might know about his nerdy past.
After Idol ruined one of ROTFL:BRBTTYL:)'s new dances, the 'Nanana',Techno & Dubstep suggest that they round up the MyMusic employees to feature new dances, with Indie claiming it as his idea. The employees perform in front of the crew with their dances, only to annoy them, while Techno & Dubstep's dance gave Leader a seizure when they performed with flashing lights. Later, Metal suggests to have lunch, and it's revealed that the ROTFL:BRBTTYL:)'s female member is generally named Lunch, do to the fact that sometimes she is called "Salad" or "Sandwich". During lunch, Hip Hop sees Lunch whispering into Intern 2's ear, and assumes that she's telling Intern 2 that Hip Hop is actually a poser. Wondering what to do, the little angel on his shoulder tells him to explain the situation to Intern 2 over turkey legs and mead in a civilized manner, while the little devil on his other shoulder tells him to kill Intern 2, which the devil demonstrates by shooting the angel. Satan (Tobuscus) immediately comes in, realizing he's too late to convince HipHop to do something bad. At that moment, ROTFL:BRBTTYL:) agree that if they don't get a new dance craze soon, they will leave. But when Metal accidentally electrocutes himself, the dance crew sees this as a new dance craze. Meanwhile, Hip Hop tries to kill Intern 2, because he believes Intern 2 knows he's a cello teacher. However, Intern 2 only just discovers this when HipHop confesses as he's just about to shoot Intern 2, and Intern 2 then reveals that Lunch was making fun of Intern 2's shoes instead, calling them "kicks", before actually kicking him in the shin), and is surprised that HipHop is a poser, and via a flashback (thanks to the flashback cam they use, due to the fact they didn't have a camera crew six months earlier), we see that the last poser, who was the original Metal, was sent by Indie to the rat protector and the rats to be killed after failing a question about New Wave of British Heavy Metal. Now depressed that Intern 2 knows, HipHop feels that he needs to kill him in order to keep his job. But Intern 2 promises to not tell anyone about HipHop's secret. With a sigh of relief, HipHop hugs Intern 2. But when Indie enters the room, Hip Hop tells Intern 2 to get off of him, shooting him in the leg in order to keep up his act as a "Gangsta".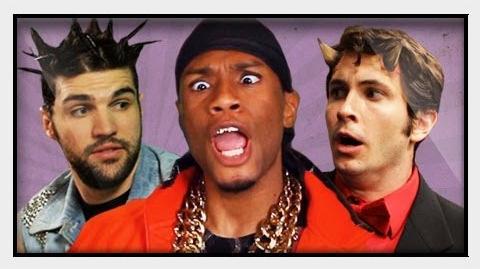 Ad blocker interference detected!
Wikia is a free-to-use site that makes money from advertising. We have a modified experience for viewers using ad blockers

Wikia is not accessible if you've made further modifications. Remove the custom ad blocker rule(s) and the page will load as expected.