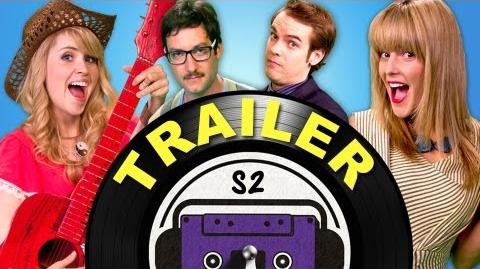 Season Two is the second season of MyMusic, set to be released August 20, 2013.
Announcement
Edit
In May 2013, the Fine Brothers announced the second season MyMusic, having released an announcement video on the MyMusicShow channel. The Fine Brothers were cited saying "We had an overwhelming fan response in Season 1 and we definitely couldn't have made it to a second season without their viewership and participation." The extended trailer for Season 2 will be posted on TheFineBros YouTube channel on July 30, which revealed the season will begin on August 20.
Production
Edit
The production of the second season began on May 14, 2013. The Fine Brothers have also been releasing several photos, daily, of production. Videos, or "Production Diaries", have also been released on TheFineBros2, weekly. Reports detail that Lee Newton and Paul Butcher would be joining the MyMusic cast. Toby Turner has also been announced to reprise his role as Satan. A production diary video was uploaded featuring Lee Newton as Country, confirming reports that she would be joining the cast, as well as featuring Harley Morenstein as Jesus. Paul Butcher was also reported to join the cast.
Main Cast
Edit
Recurring
Edit
Episode List
Edit
No. in

series

No. in

season

Title
Original airdate
35
1

MyMusic Season 2 is here! What has the staff and company been doing since we saw them last? Idol gives you a tour of the new office, and welcomes back the documentary crew!

August 20, 2013
36
2

Hip Hop's nerd side is finally embraced. However, one staff member has a completely different opinion. 

August 27, 2013
37
3

Idol continues to struggle to get work done due to Techno & Dubstep's music while Hip Hop settles in to life stuck in the closet. 

September 3, 2013
38
4

Idol sports a new look, Intern 2 & Scene plan to help Hip Hop while things get a little out of control with Metal at the poker game. 

September 10, 2013
39
5

Idol returns from raving with Techno and Dubstep, Scene discusses her education plans with Intern 2 and Hip Hop makes an important decision. 

September 17, 2013
40
6

Indie is coping with Hip Hop's resignation, DJ Elephant stops by the office and Metal takes on a new role in the office! 

September 24, 2013
41
7

Hip Hop returns to the office, Country finally reveals her secret to Idol, and we say goodbye to one of the staff members. 

October 1, 2013
42
8

"Origins"

It's new beginnings as we learn about Country's backstory and Scene starts a new chapter in her life. 

October 8, 2013
43
9

Indie lets the staff come up with their own Team Building exercises, Country is still trying to improve her Karma, and Dubstep surprises the staff with his hidden talents. 

October 15, 2013
44
10

Indie hires a professional team builder, Scene is still trying to keep up with her classes at college, and someone is sleeping on the job! 

October 22, 2013
45
11

The staff rebels against the Teambuilder, Intern 2 still can't stay awake, and Indie questions Scene's commitment to the office. 

October 29, 2013
46
12

Indie hires a familiar face to help out Intern 2, Scene spends more time with Jeff at school, and the rest of the office works on self improvement.

November 5, 2013
47
13

Intern 2 finally stands up to Indie, Rayna goes to Nerdcore for help, and Scene must make a difficult decision. 

November 12, 2013
48
14

Country continues to work on her karma, Jeff asks Scene an important question, and the staff starts a charity drive!

November 19, 2013
49
15

Jeff visits Scene at work and Dubstep and Techno reveal a secret to Country!

November 26, 2013
50
16

Rayna finally gets her dad to notice her, Scene makes a decision, and Intern 2 reveals news about his future at the company. 

December 3, 2013
Idol & Country are cousins. Revealed in Season 2
Idol leaves MyMusic for her adventure in Season 2 Episode 7. SAYING GOODBYE :(
Scene decides to go back to school but, Indie makes her decide MyMusic or School?
Country becomes a Main Cast Member in Season 2 Episode 8 (ORIGINS)