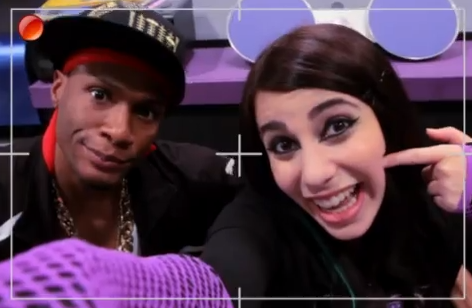 Scenecore is the friendship pairing of
Scene
and
Nerdcore
. A decent amount of people ship this as a friendship more than a relationship due to Scene's love for
Indie
known as
Scindie
.
Nerdcore and Scene have always been friendly, and they share some similar interests, which aren't fully explored at first due to  Nerdcore having to hide his true nerdy self. Scene even gave Nerdcore  a copy of her favorite movie "My Neighbor Totoro" which he secretly loved, when she thought she was going to die in The Funeral. Nerdcore could also relate to her pain of losing avatars since he had lost his own. Both of them bonded even more when Scene went through her personality changes and became Hip Hop-Scene. In Choosing Sides and Sabotage, the two of them were worked together to make a show when the office was divided and had a lot of fun until Satan messed things up. After that confusion, they still remain good friends even after Nerdcore is revealed as a poser.
Fanfiction
Edit
Picture Gallery
Edit
Ad blocker interference detected!
Wikia is a free-to-use site that makes money from advertising. We have a modified experience for viewers using ad blockers

Wikia is not accessible if you've made further modifications. Remove the custom ad blocker rule(s) and the page will load as expected.