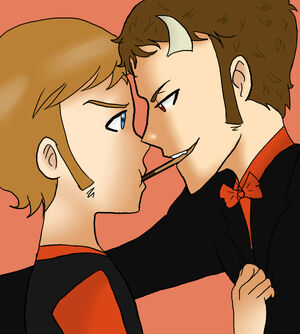 Satanchart (aka Satern 2) is the romantic ship pairing between Satan and Flowchart. It is shipped by a select few of the MyMusic fandom. It is not a very popular ship, but it is slowly becoming more so. 
This ship may have originated from the Jackbuscus ship, which is a popular friendship/romantic ship pairing between Jack Douglass and Toby Turner. Flowchart and Satan have been in a few scenes together, one in Choosing Sides, where Idol asks Satan for help because he produced many television shows. He then lists off some unpopular shows, much to Idol's digust, and so she turns to Flowchart to ask him about spying on the other team. Also, in the Mosh, Kat C, more well know as KatTheWriter , asked Flowchart if he would be friends with Satan, and the answer was "Probably.". More recently, KatTheWriter asked Satan on his Reddit AMA what he thought of Flowchart, since he said he would probably be Satan's friend. Satan replied "He seems like an alright guy with a tantalizing soul."
Fanfictions
Edit
No Such Thing As Happiness For The Devil
Miniature hearts produce Gigantic love
Ad blocker interference detected!
Wikia is a free-to-use site that makes money from advertising. We have a modified experience for viewers using ad blockers

Wikia is not accessible if you've made further modifications. Remove the custom ad blocker rule(s) and the page will load as expected.