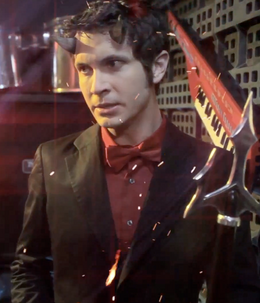 Satan
(potrayed by
Toby Turner
) is a recurring character from
MyMusic
. His first appearance was
Invisible
, in which he gets an autograph from
Gorgol
. Occasionally, he would pop up once in awhile.
Contrary to popular belief, Satan doesn't do his job very well. The TV shows he worked with usually ends up being a flop (Whitney, Saved by the Bell: The College Years). And in multiple occasions, he fails at convincing Nerdcore  to do bad deeds, only to be beaten by Hip Hop's shoulder devil.
In Season 2, it was shown that he currently spends his time by playing a poker game with other recurring characters such as News Newsman and the Rat Protector. He plays dirty and even resorts to physically injuring his playmates.
Ad blocker interference detected!
Wikia is a free-to-use site that makes money from advertising. We have a modified experience for viewers using ad blockers

Wikia is not accessible if you've made further modifications. Remove the custom ad blocker rule(s) and the page will load as expected.