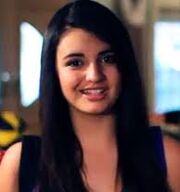 Rebecca Black is a pop singer who became infamous on YouTube for singing "Friday", which has been regarded as the worst song of all tme.
Rebecca made a cameo in the episode, Back in Black. When Metal took over the company after Indie is concentrating more on his needs, Metal discovers Indie hired her to write songs about the lunch he ate that day because he stated it would be ironic.
As a result of Metal taking over in order to save money, he fires her. In response, she angrily tells him that she's not fired, but quits.
That would be the last time anyone saw or mentioned of her again.
Ad blocker interference detected!
Wikia is a free-to-use site that makes money from advertising. We have a modified experience for viewers using ad blockers

Wikia is not accessible if you've made further modifications. Remove the custom ad blocker rule(s) and the page will load as expected.