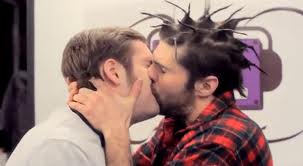 Metalchart is the romantic pairing of
Metal
and
Flowchart
. A lot of the fandom started to and continue to ship this after
Metal
made out with
Flowchart
, and it's gaining more and more popularity. This is not likely to happen soon since Metal is still married to Tina forming
Mina
.
In the first couple of webisodes when Metal was new to the office, Metal tried to befriend Flowchart, but Flowchart said it wasn't worth getting on Indie's bad side. They both were on okay terms for a little bit while Flowchart was a part of Metal's inadequete production team, but things changed when Metal's daughter Rayna came to the office. Rayna told her dad she was in love with Flowchart in Office Dates, and Metal flipped out. Some say this might have been out of jealousy, but Metal said he was protecting his daughter. From that point on, Metal directed a lot of his anger at Flowchart by choking or wrestling him. In They Finally Kiss, Metal ends up kissing Flowchart out of anger when he finds out Flowchart broke Rayna's heart. While he was shocked at first, Flowchart eventually complimented Metal's parenting style in that situation. Now Metal makes fun of Flowchart with most of the other staffers, but in the end, they have a sort of cordial friendship. It might be possible that Scene is a Metalchart shipper after she continually played the clip of them making out on MyMusic Live over and over quite happily. Also on episode 23 of the podcast, Country and Nerdcore read a smutty Metalchart fic, and Metal gets quite defensive.
Fanfiction
Edit
Picture Gallery
Edit
Ad blocker interference detected!
Wikia is a free-to-use site that makes money from advertising. We have a modified experience for viewers using ad blockers

Wikia is not accessible if you've made further modifications. Remove the custom ad blocker rule(s) and the page will load as expected.