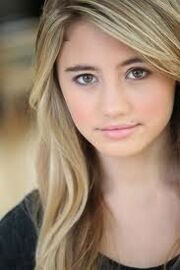 Lia Marie Johnson (born November 23, 1996) is an American actress and musician who plays the role of Rayna on MyMusic. She first debuted on Kids React, another famous show created by The Fine Brothers. Since then, she has been in many other videos by YouTubers, such as a Shane Dawson video and other numerous works by the Fine Bros. She also has her own YouTube channel, liamariejohnson, where she performs covers of songs, among other things.
Featured MyMusic Episodes
Edit
Notable Appearances
Edit
Kids React as herself (2009-2011)
Teens React as herself (2011-2013)
MyMusic as Rayna (2012-present)
Tim and Eric Awesome Show as Cheerleader (2011)
Nerd Wars as Doris (2012)
Spirits as Kaelyn (2012-present).
Youtubers React as herself (2014- unknown)
External links
Edit
Ad blocker interference detected!
Wikia is a free-to-use site that makes money from advertising. We have a modified experience for viewers using ad blockers

Wikia is not accessible if you've made further modifications. Remove the custom ad blocker rule(s) and the page will load as expected.