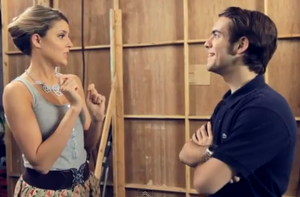 Flowdol is the romantic shipping of
Idol
and
Flowchart
. This ship is almost universally disliked across the fandom but has a strong presence in the second story arc season one.
In Single Ladies, Idol is still getting over her breakup with Chip while still looking for love. As a result, she ends up becoming smitten with Flowchart when he says he understands the importance of work and doesn't care what music she likes unlike Chip. SInce she set her sights on Flowchart, this caused friction in her friendship with Rayna who also liked Flowchart. While Idol fought for Flowchart's love, Flowchart seemed not interested in her and was somewhat annoyed by her in general. Finally in They Finally Kiss, Flowchart makes it clear he is not interested in Idol which deeply upsetted her. She even slapped him in Cover Up when Flowchart had to pretend to like Daughtry to protect Hip Hop. At this point, there is very little to no chance of these two getting together. In season two in Family Breakdown, Idol sends a card to Intern 2 saying his rejections made her stronger, but still has Country slap him for her.
Picture Gallery
Edit
Screencaps from the EpisodesEdit
Ad blocker interference detected!
Wikia is a free-to-use site that makes money from advertising. We have a modified experience for viewers using ad blockers

Wikia is not accessible if you've made further modifications. Remove the custom ad blocker rule(s) and the page will load as expected.