Big Foot
is a minor character on
MyMusic (show)
. At the beginning of the show, Big Foot occasionally walks around the office, avoiding any of the MyMusic staff members. However, later on, the staff become more aware of him and more okay of his existence.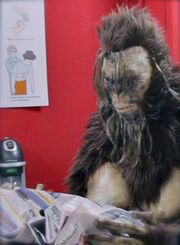 To be exact, the staff at MyMusic seem to ignore him, or at least not notice him. It appears that Big Foot lives in the MyMusic washroom and was once seen reading How To Use Human Toilets. He is also shown dancing with the The Guess Guy in the episode Party Time.
In Season 2, though lacking any appearances on the main show, Bigfoot is often called for in side shows like the MyMusic Podcast and Gaming with Metal, implying that he is the man behind the camera and helps produce these shows.